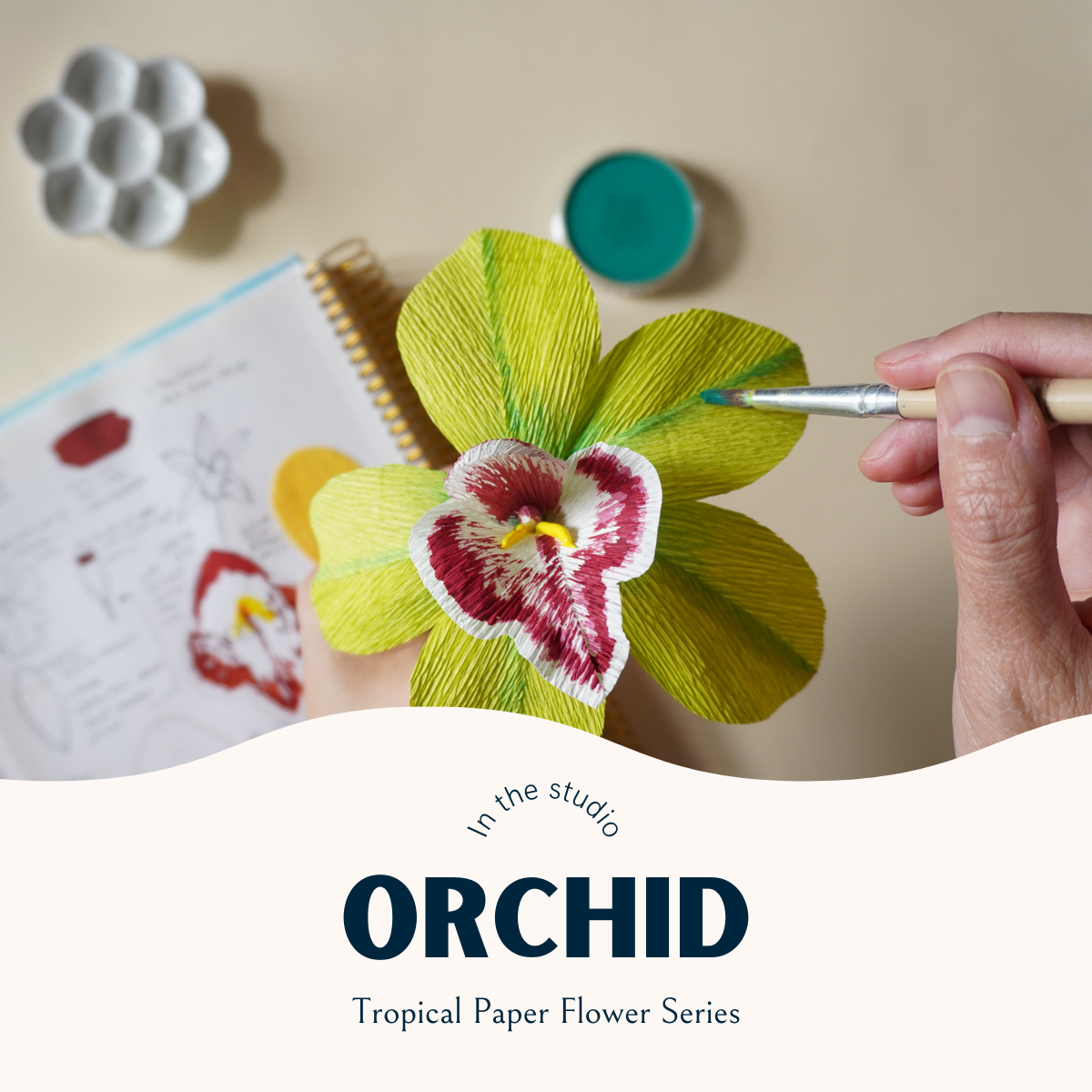 Paper Orchids : Tropical Paper Flower Series
A project documentation for paper Orchid. Poy walks you through her design process of making an exquisite flower, Moth and Cymbidium Orchid as the first flower of her Tropical Paper Flower Series. A passion project she decides to make to reflect on her childhood and happy moments from her vacations.
Background
I chose to make Orchids as my first flower of the series because I made them for a commission order where I recreated a bridal bouquet for a wedding anniversary in early 2022 and I got a lot of people saying that it's one of their favorite flowers.
Facts about Orchids
Now let's hear some of the facts about Orchid
Orchids are a diverse and widespread family of flowering plants, with over 25,000 species.

They are known for their often showy and colorful flowers, which come in a variety of shapes and sizes.

Orchids can be found on every continent except Antarctica.
This means they are considered Tropical and sub-tropical meaning they can also be found in colder weather but they are native to tropical climates so do not come at me.
Starting the project
I usually start the project with what color palette I want to work with. I usually just scroll through Pinterest and search for Tropical flowers and choose ones that stand out. But for this Orchid, since I've made them before, I want to try to iterate my old template and explore new techniques and tools.
This is the first version of the Orchid I made in 2022, They are called Moth Orchid and are made with laminated 60 grams of crepe paper and colored with watercolor. And also this Cymbidium orchid I made for fun years ago. Not sure if I like the coloring and the petal shapes can definitely be improved.
I've been exploring more with Acrylic paint at the beginning of the year so I want to try to see if that would work on Orchids.
and for this first one, I started with this Moth Orchid
Challenges
The lips: This is the most frustrating step for me. I've tried so many ways and it didn't come out the way I imagined.
Petals and application
The texture of the paper: Choosing a paper that gives a smooth texture and is also durable is not easy. For a smooth texture, you'd want to use 60 gram crepe paper but for durability, doublette or 90 grams are better. 

so this is my first, I mean second, version where I laminated 90 grams of Italian crepe and colored it with Panpastel.
Learning:
The shape of the petals is still not quite what I'm looking for

The lips are ok but they are not as realistic

I'm using purple pan pastel on lilac paper which I'm happy with the coloring

Personally, I don't mind the texture but laminating 90 grams makes the petal too thick.
2nd iteration
For this version, I wanted to try laminating 60-gram papers instead and use Acrylic instead of Panpastel and adjust the template.
It looks a little weird coz I painted 2-3 times on top because I couldn't get the right color but I think I'm close when it comes to the template alone. so I'm not so mad about this step
3rd iteration
Now that I know laminated 60 grams works better, I'm gonna use the Doublette I have and try acrylic paint again.
This is the 3rd Iteration where I'm not quite a big fan of this veiny pattern I have going on here, but I do think the petal shapes are in place so I'm gonna create another version with the cream paper.
Quick tips:
To make a template you want to use thicker paper like a cardstock or cardboard so it stays in shape and is easier to cut.
🌸 I recently learned this tip from my paper flower friend, Shruti,(of Petals by Shru) to use Cereal boxes or any kind of paper package like these to use as templates. You also want to use a small clip to hold the template and paper together while cutting.
4th iteration
Ok since I'm now very satisfied with the petal templates, I decided to make the whole branch with 5 flowers with some buds, just to see how it'd look and try to imitate the coloring as much as possible. I use pan pastel as a base and acrylic paint on top to emphasize the color. Then at the end, I dab this lime green acrylic paint on top.
Oh and for the lips, this is also my latest discovery, This Tulip fabric paint gives a dimension look so that's perfect for detail for the lips
The branch came out bigger than I thought and this took about 5 hours to make. I adjusted the template a little bit and I think the other change from this one would be the size of each flower. I would have 3 sizes of the flower for each branch with the buds.
5th Iteration
Here we are at the 5th iteration. I'm going back to my first love, Purple. This is the doublette with Purple and magenta on the other side. I've now adjusted the sizing of the flowers and here's the result.
I'm definitely loving using white acrylic paint on each petals, the gradient makes them look more realistic and I'm definitely a fan!
Now that I have this Moth Orchid done. Giving myself a big round of applause!!
Cymbidium orchid
I decided to make this Orchid on a whim. I honestly was a little nervous about re-making Cymbidium because the lips are more complicated. 
I've spent the whole day coming up with the lips design and these are the results that I'm SUPER proud of.
This brings me to the end of my FIRST project documentation of the Tropical Paper Flower Series. Let me know your thoughts in the comment below. You can now shop these pieces here. If you're up for the challenge and want to try to make them yourself, I've linked the supplies I personally use for this project below. 
Links to tools and supplies 
Not sponsored 
(Affiliated with Amazon)